Jason O'Callaghan brings the mystical art of hypnosis to the stage in this breathtaking and hilarious show which undoubtedly will add the WOW Factor to your Corporate Event. Suitable for all events this Innovative and Unconventional Comedy Hypnosis Entertainment Act promises to provide the laughter and fun for your Party Guests.
Jason's training and experience as a Trinity College Master Psychologist, together with his years of experience as an entertainer, assures a great night's entertainment. His show delivers a comedic performance and demonstration of the amazing powers of the unconscious mind and the power that each of us can tap into.
Watch Jason as he hypnotizes volunteers to forget their own name, to believe that there are world famous celebrities in the audience, that they are on the X Factor, or that they are the world's most famous singer or dancer, that they can speak to Aliens or that their belt is actually a live snake.
How it works:
45 mins to 1.5 hours show duration
PA/Lighting supplied
Needs (pref stage and 5/10 chairs)
Show is a clean show and both corporate and family friends unless otherwise requested (nightclubs/comedy clubs ect)
1. Introduction to Hypnosis
2. Explanation of show format
3. Variety of tests to show the power of hypnosis
4. Call for volunteers
5. Induction (Hypnotizing) of volunteers
6. Comedy routines
Examples: Volunteers get to hot/cold, play invisible instruments,are the world's greatest Irish Dancer and Karaoke stars, can't remember their own names or how to count, become thirsty but can't find their mouth, speak only alien, think a belt is a live snake)
7. Show ends with Volunteers thinking the are on stage in Vegas and sing along to New York/New York with Hypnotist
8. Volunteers brought out of hypnosis and thanked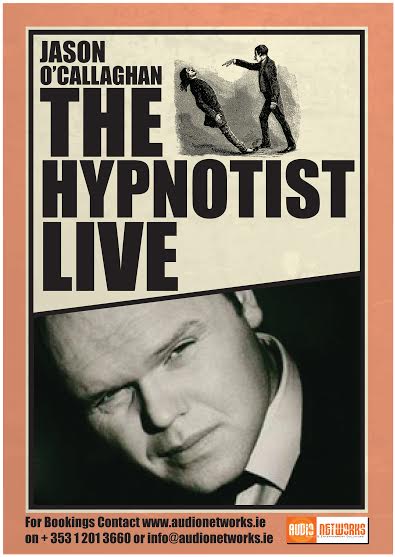 For bookings and more information on this very unique and unconventional, yet unbelievably fantastic Corporate Entertainment Act please do call us on +353-1-201-3660. We'll gladly run through all the necessary details on how to hire Jason O'Callaghan for your Event, with you!